100 Notebook Project Launch
Hemingway, Da Vinci, Currie, just a few among many, recorded their thoughts, arts and day-to-day musings in notebooks providing insight into their creative minds. The 100 Notebook Project explores the power and potential of the notebook as a medium for capturing creativity. Our local community is full of inspiring and imaginative people who have their own unique perspectives to share. 100 creative people will be selected and given a notebook to fill with their own thoughts, art and day-to-day explorations. Each of the completed notebooks forms the basis of the 100 Notebook Project Exhibition, a community event to celebrate these unique, creative works. Afterwards, the collection will become a circulating library further sharing the power of the notebook with the public.  This creative initiative is a collaboration between BRIDGE Waterloo Architecture and Phidon Pens Limited with support from Leuchtturm 1917.
Participants for the 100 Notebook Project will be selected by offering us a glimpse into their creative minds. Everyone who completes a postcard for "A Night Of Postcards – Cambridge" is eligible to be chosen as one of the 1oo partcipants. Everyone and anyone is allowed to submit a postcard for consideration – all ages and talents. "A Night Of Postcards" is a community art project that encourages the sharing of perspectives, thoughts, and memories of Cambridge, Ontario. For more information about the event visit the event website or read about "A Night Of Postcards – Cambridge" on BRIDGE. The event is open to everyone. Postcards are currently available for pick-up and drop-off at Waterloo Architecture, Phidon Pens, Grand Cafe, Monigram Coffee Roasters, Cambridge Centre for the Arts and each of the Design Exchange public libraries. Entries for "A Night of Postcards – Cambridge" project will be accepted until November 25, 2014. Everyone is invited to attend the exhibition on Thursday December 4th at BRIDGE Pop-Up located at 60 Main Street in Cambridge.
Selected participants for the 100 Notebook Project will be notified by the beginning of December. Participants will have from December 2014 until April 2015 to fill the pages with all forms of creative explorations. Once completed, the notebooks will be compiled for the exhibition and notebook library. The inaugural 100 Notebook Project community exhibition is expected in May of 2015.
For further information visit the 100 Notebook Project website and follow us on Facebook and Twitter.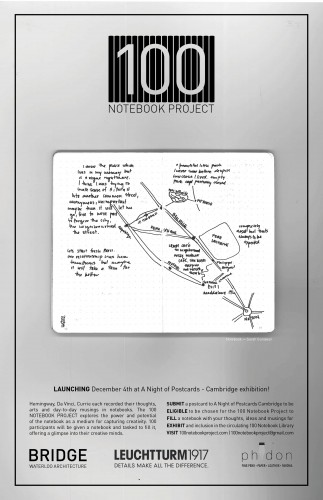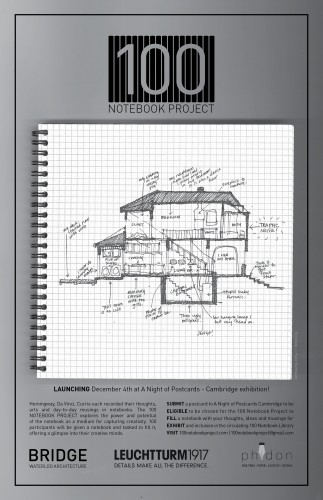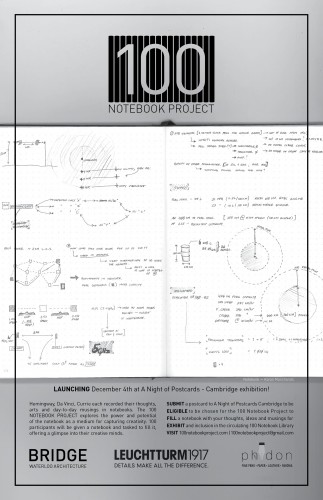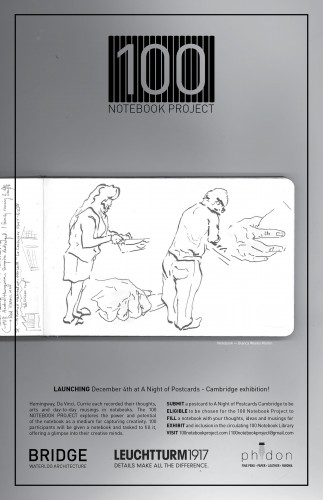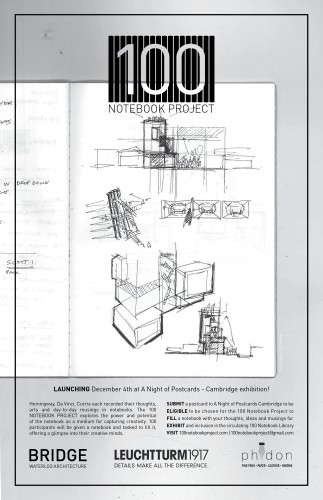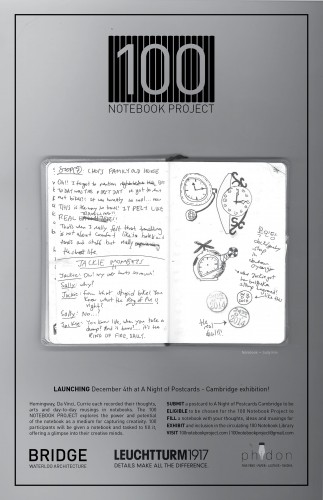 Notebooks courtesy of Sarah Gunawan, Piper Bernbaum, Karan Manchanda, Bianca Weeko Martin, Felix Yang, and Sally Kim. Visit the 100 Notebook Project website for more insights into notebooks past and present.