STUDENT WORK / Subarctic Headquarters of Automation / 3B Option Studio
In their 3B option studio, Natalie & Vincent envisioned the future of a mining settlement in northern Québec.
Monday and Thursday are studio days. On these days in particular, the third floor undergraduate studio is filled with a frenetic energy of design, research, and exploration. Students can usually be found talking excitedly with design professors and classmates in a habitat saturated with trace sketches, study models, and empty coffee cups. Every week we'll share a completed project, churned out from this energetic studio environment. 
Interested in having your work featured on our STUDENT WORK series? Check out our BRIDGE Contact page for submission details.
---
Natalie Kopp & Vincent Min's "Subarctic Headquarters of Automation"
3B Option Studio: Arctic Urbanism  |  Lola Sheppard
As a response to Canada's model for the mining industry, this project is about envisioning the future of mining settlements with the incorporation of autonomous systems, and investigating the subsequent environments that would arise in an isolated northern mining site.

Considering the disconnected working and living conditions of mining operators in northern Québec who fly in to work long hours performing repetitive tasks and fly out again once their job is done, automating the machine operations is the next step in increasing the efficiency of the industry while replacing a job that already likens its workers to robots. Assuming that automation will soon become prevalent in the mining industry and increase the exploitation of the resources common to northern Canada, we propose the implementation of a command center for automation which would facilitate the transition of the industry from human to machine.
We aim to explore the social implications on a local and regional scale of a small, highly-educated community that would control the area's mining, hydro, and research operations from a single location.
This state-of-the-art facility would act as a headquarters for remote mining operations in the north, research and development of automation in mining, surveying potential mining sites using drone technology, and training new employees. The center is designed with the intent of a core of 300 employees with the potential for expansion or contraction. Flexible operations or social modules can be attached or detached to the circulation corridor as nearby mines close or open for development.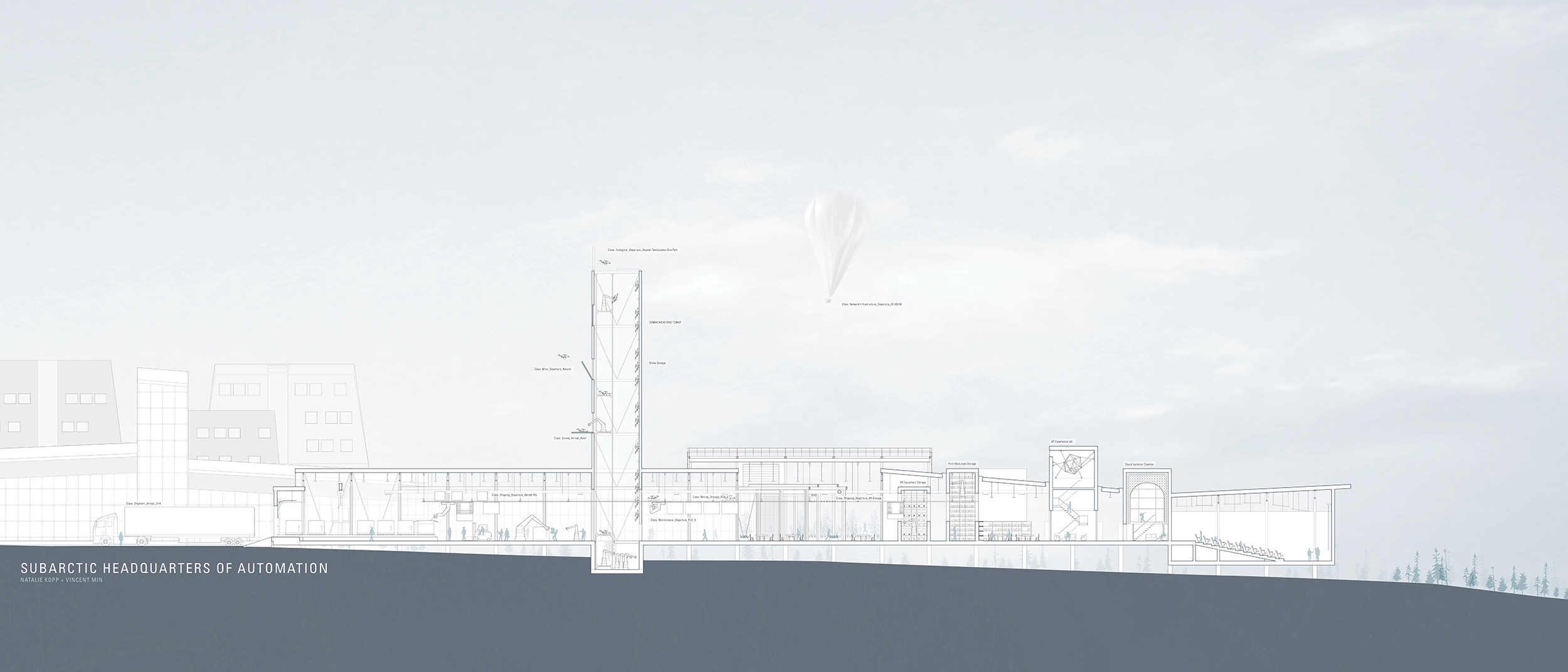 What is the impact on the regional communities from the loss of entry-level mining jobs?
Will the automation of mining lessen a mine's footprint, allowing indigenous communities to re-claim their territory once it is depleted?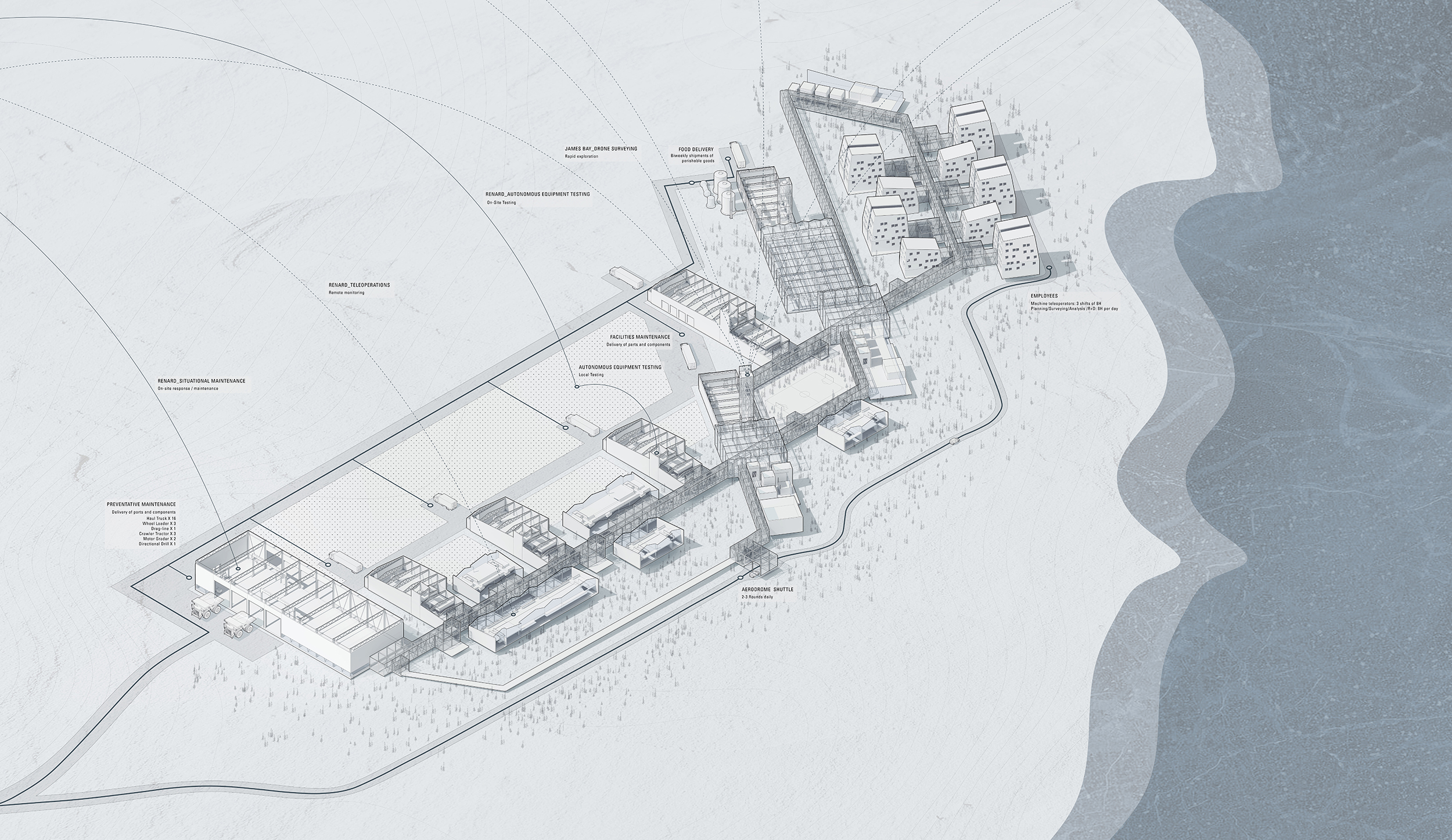 How do you design spaces for machines?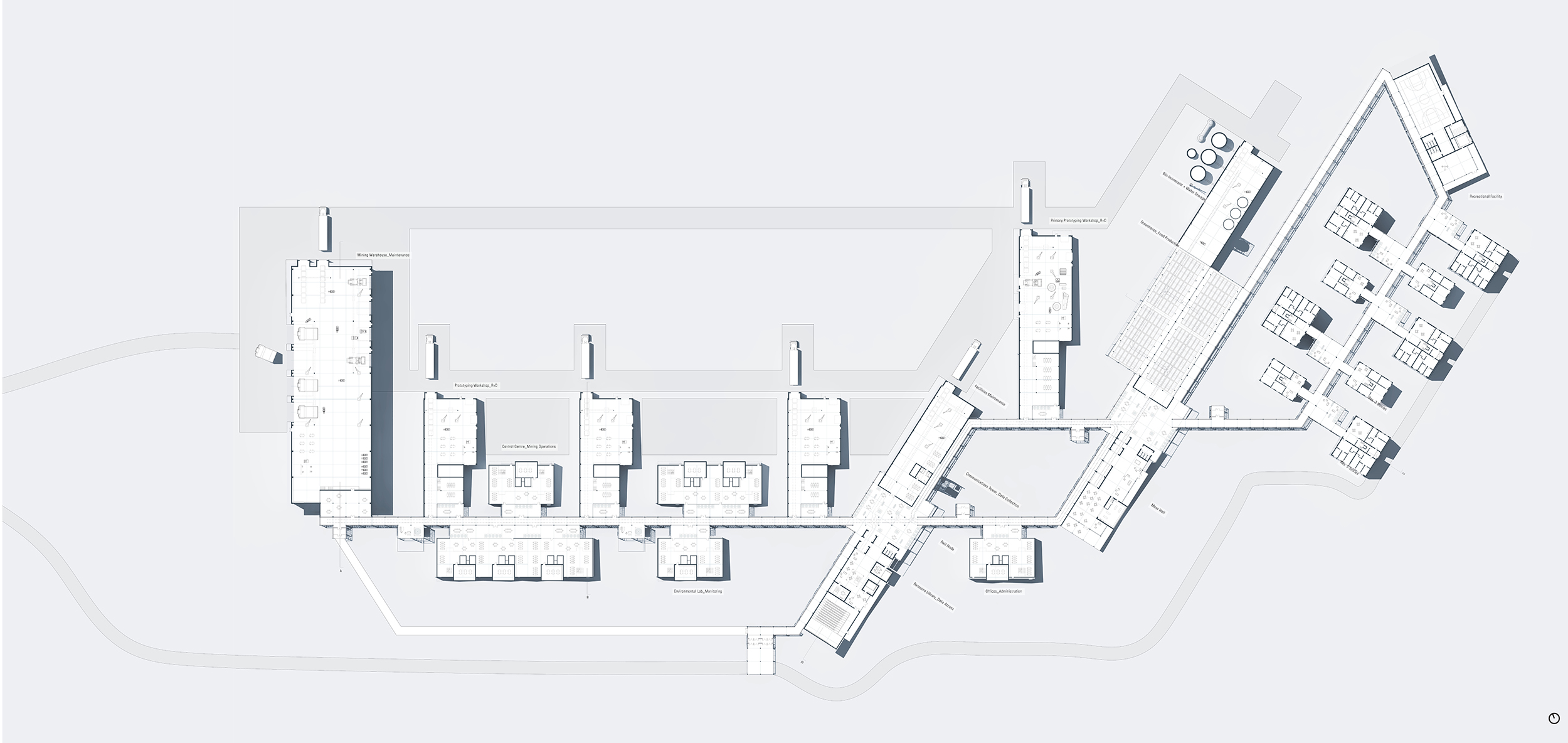 Can isolated northern settlements be used as prototypes for interplanetary colonization?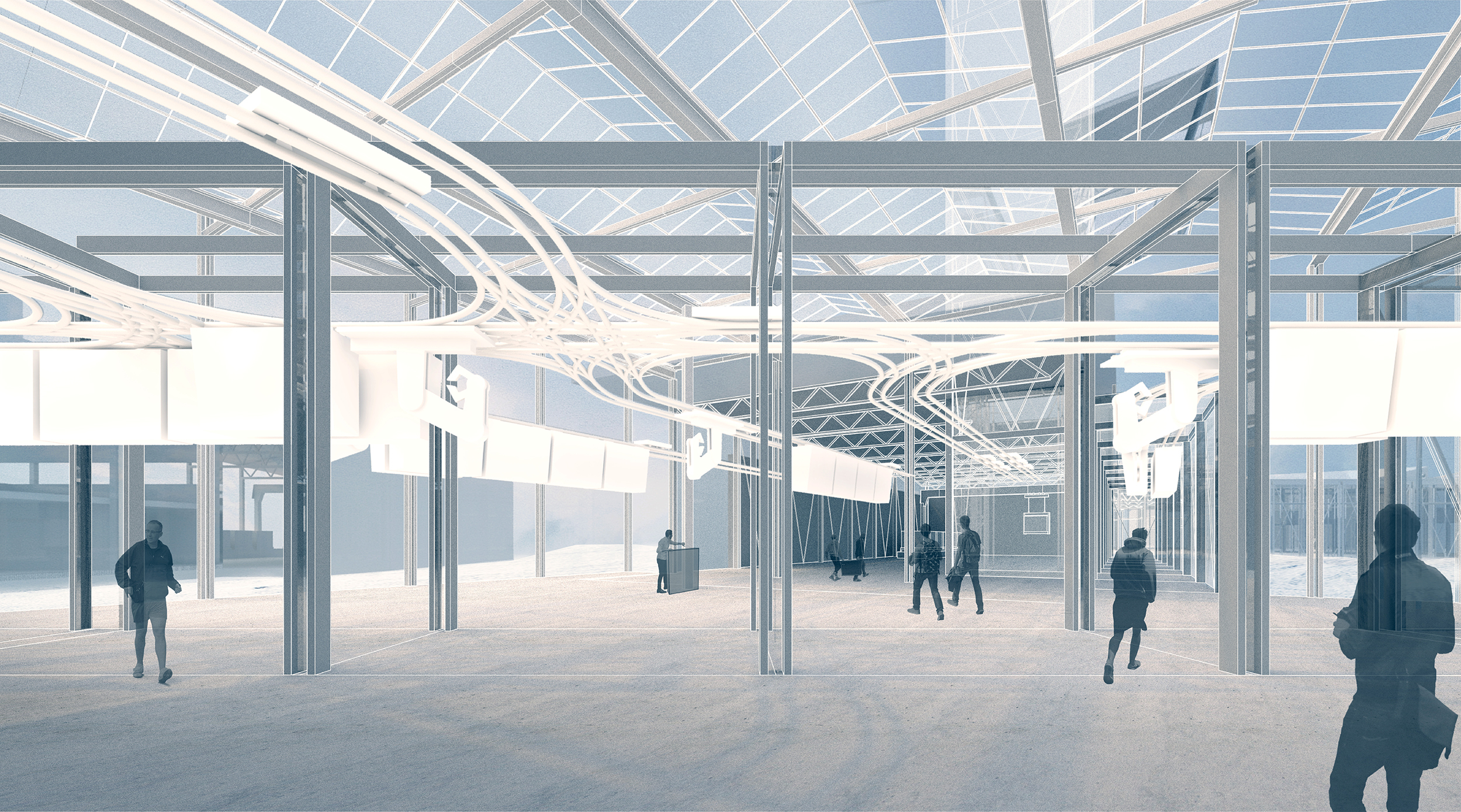 What level of involvement will humans have in the future of the mining industry?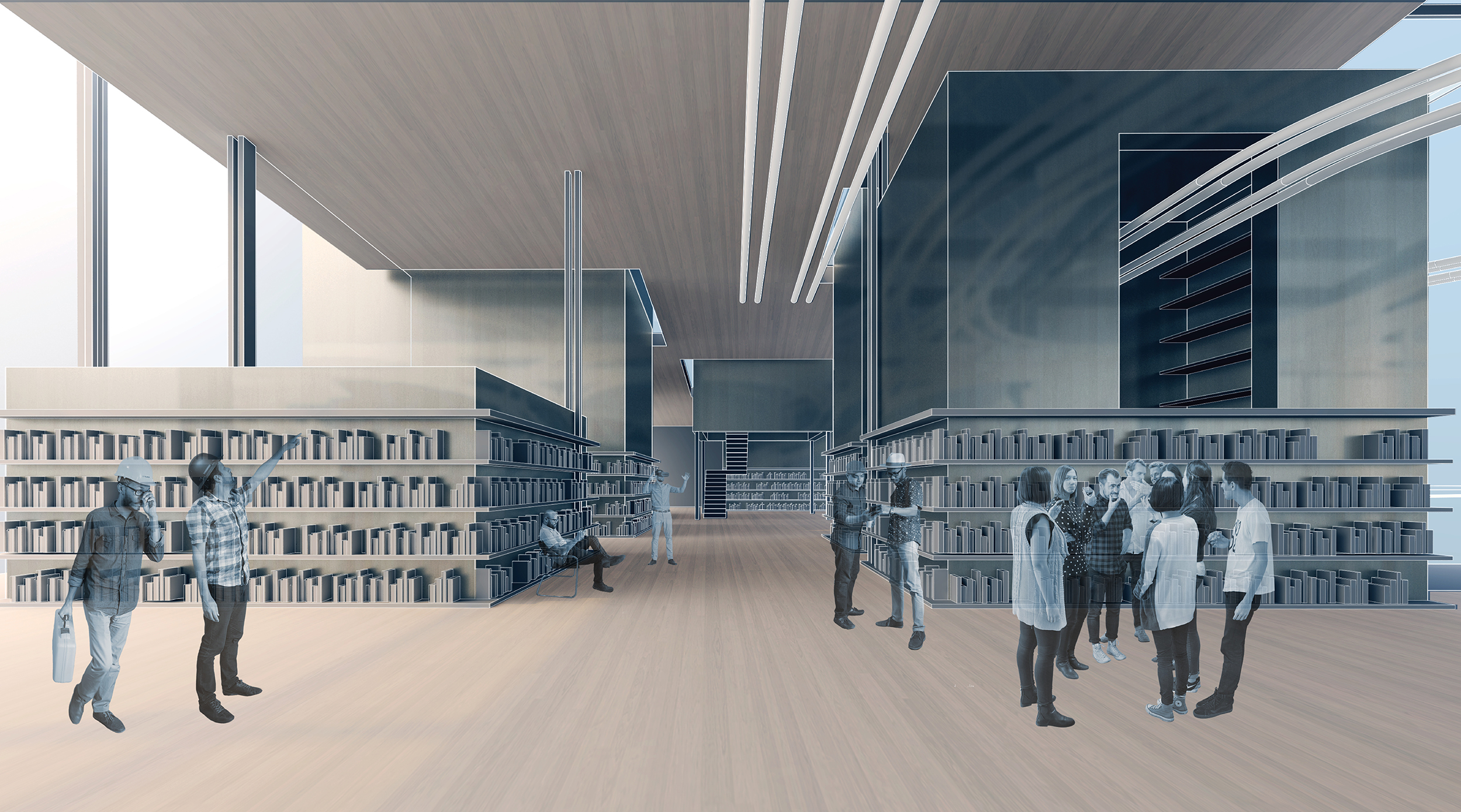 In a small, highly paid and isolated community with excess leisure time, what problems arise and how can this be addressed through architecture?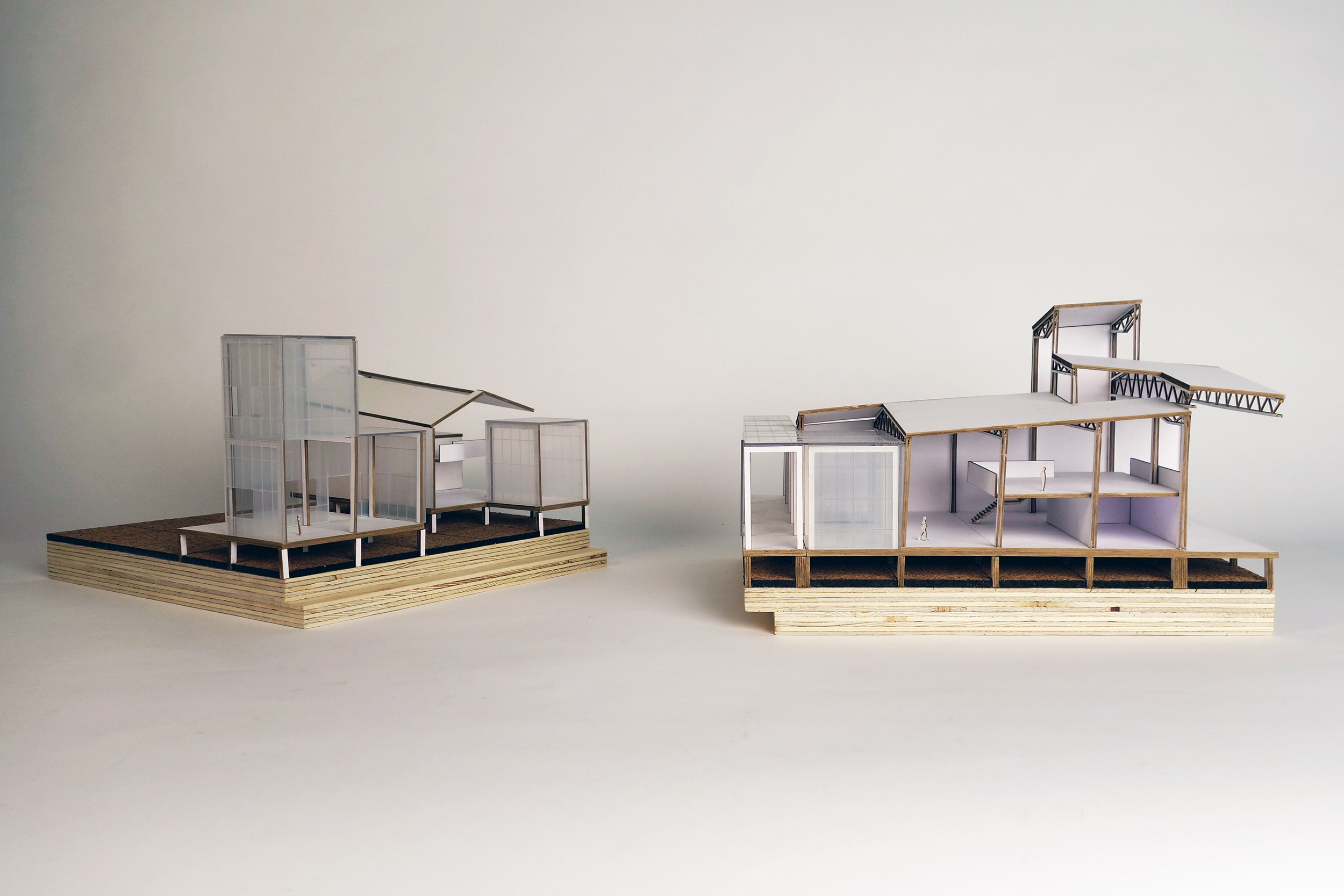 What does it mean to be human?