THESIS: Erosion: Designing with Materiality in Impermanent Landscapes
Erosion

Designing with Materiality in Impermanent Landscapes

Kunaal Mohan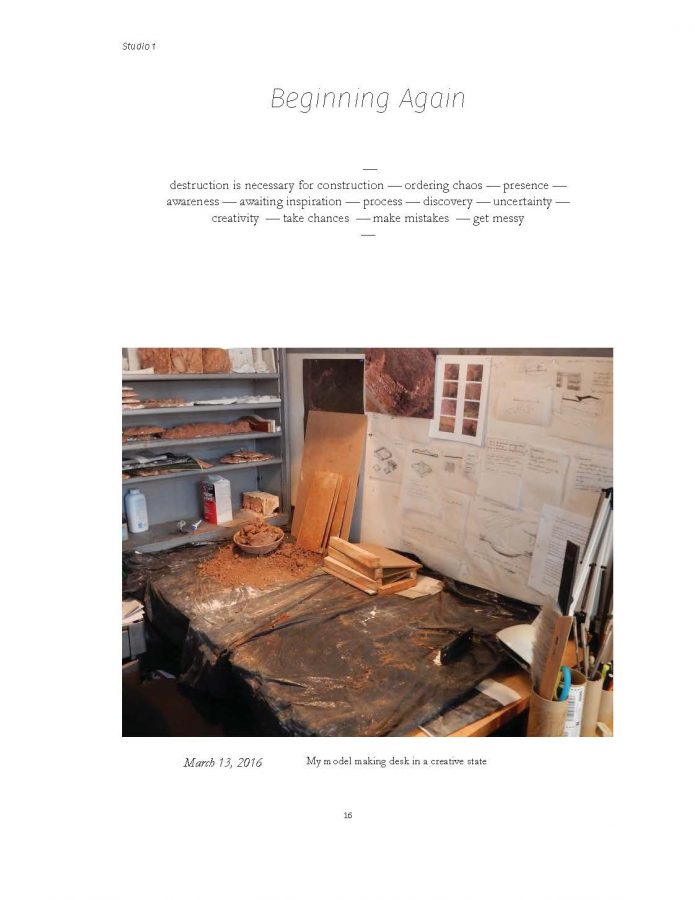 Using the Buddhist notion that we conceive of time through observing change, this thesis attempts to answer the question 'how can we create the sensation of time in architecture?' It is important to acknowledge the fact that buildings will change over time. No building is above aging. "The transformation of a building's surface can… be positive in that it can allow one to recognize the necessity of change, and to resist the desire to overcome fate."
To the modern movement, water stains and eroded edges are a tragic vandalism of the original design. Alternatively, this 'destruction' of architecture reminds us that materials are alive and changing. What we see is the impermanence of all things. A material will eventually return to its source. The death of one body is essential for the birth of another.
The thesis investigates impermanence in architecture through a four part studio:  Studio 1 'Beginning Again' recounts the thoughts and theory behind the thesis. Studio 2 'Studies in Process' explores the balance between control and surrender through experimentation with the casting process. Studio 3 'Studying Site' engages with the Cheltenham Badlands through aerial photography, site sketches, and scientific studies. Studio 4 'Building on an Eroding Landscape' concludes the thesis with the development of a design methodology and a final proposition for the badlands. The architecture attempts to engage visitors with the materiality of the landscape and the ongoing processes which form it.
Designing through process rather than form, the thesis challenges the ego of the architect. I have found that letting go of some control and thinking through making has informed and inspired an approach to design that decentralizes the desires of the architect. Submaking (where willful control and surrender occur in the same place and at the same time) has revitalized my desire to make with time.
Supervisor
Andrew Levitt, University of Waterloo
Committee Members
Anne Bordeleau, University of Waterloo
Jane Hutton, University of Waterloo
External Reader
Fred Thompson
The Defence Examination will take place:
Monday December 5, 2016
at 5:00 PM in the ARC Loft.
A copy of the thesis is available for perusal in ARC 2106A.