FAVORITE PLACES: It Could Be Anywhere
Poorna chats with Victoria from Brick & Mortar about her favorite place.
Favorite Places is a series of architectural conversations with people outside the field of architecture. This is an attempt to have meaningful discourse about the role architecture plays in one's life when creating it isn't on their mind.
---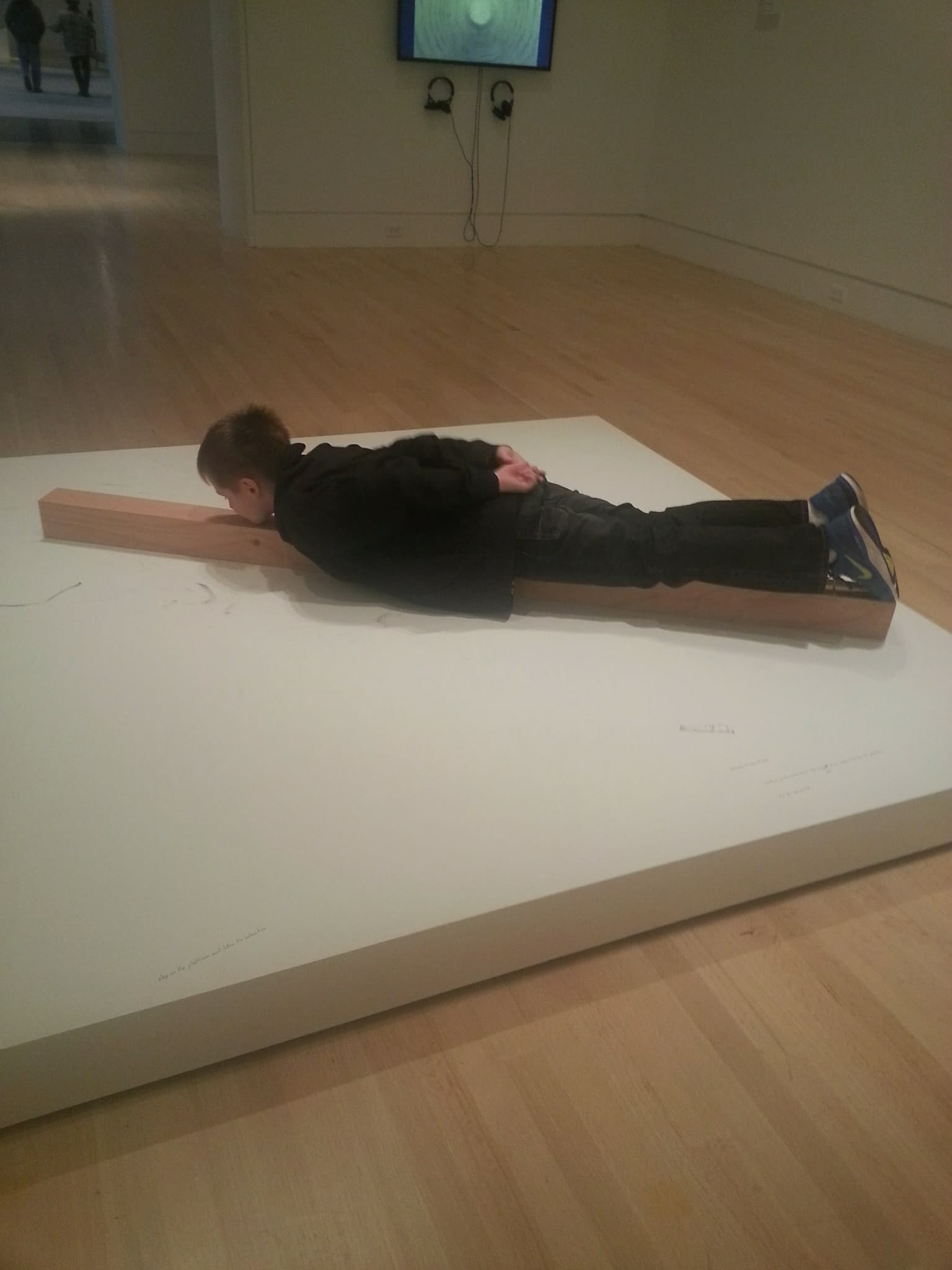 Victoria's son at the Indianapolis Museum of Art
This was a very different conversation. If you remember my last article in which I spoke with my modernism-hating friend, you'll recall that we never came to a conclusive idea about his favorite place. Victoria came prepared. Earlier this term, she mentioned that her perception of buildings has changed since setting up shop across from our school. Curiosity piqued, I asked her if she'd like to talk to me about her favorite place. A few weeks later, sitting across the cashier counter at Brick & Mortar we unpacked the components of a good space.
I'm not interested in asking a set of questions, so the 'interview' part of this article is really a jumble of the ideas discussed that I have transcribed into a conversation (that I hope best synthesizes what I learnt from Victoria).
[Victoria] It was really hard, I am easily attached to places, but my favorite place is the Indianapolis Museum of Art.
[Poorna] What about it are you drawn to?
[V] The museum engages you, there are tons of interactive installations. The collection is an eclectic mix of times rather than being sectioned off by type or era. It feels like it's about having fun, and is set up like an old mansion with art hanging in living rooms with fireplaces. The grounds were amazing too. There were installations scattered about, it was very
Alice in Wonderland
-like.
[P] Do you think there was something particularly spatial about your experience?
[V] Well, yeah. The installations were meant to draw you in. You walked into a room and you saw this kid laying on a plank (it was an Erwin Wurm installation) and in another room there were speakers suspended so as you walked through you would hear different snippets of conversation. You initially wondered whether you could interact with the pieces, but then it was really fun.
[P] Was that experience particular to this gallery, or could it be any gallery?
[V] I think galleries in general are my favorite places. I've been to the Met, the AGO, and other galleries but I enjoyed this one most.
[P] Do you find that galleries are the epitome of architecture?
[V] Yes, I do. It's like stepping into a piece of history. A gallery is a place where you can experience something phenomenal and keep it to yourself. It could be anywhere. (Later, I read that comment in my notes with a slight sense of joy. At least one space is completely about the interior. I think that's what I'm supposed to be dealing with as an architect?)
At this point a few thoughts were going through my mind; mostly a regular existential crisis about what it means to be an architect. Foremost, I wondered whether contemporary architects can only add value to the built world in wild, swooping volumes to house art. In continuing our discussion, I found that for Victoria, that wasn't the case. We spoke briefly about additions to historic buildings, in which we agreed that the library addition to Cambridge's Old Post Office isn't the most elegant solution, and perhaps the ROM's money would have been better spent updating exhibits. What followed was a mutual sentiment that restored my belief that there is such thing as 'good design.'
[V] Buildings have the ability to arrest time. You can feel and appreciate the effort someone puts into designing a building.
---
In the next interview, I will wander about Galt in search of someone else with a favorite place. I have been surprised, thus far, by my interviewees' sensitivity to space. I am curious how a complete stranger might respond when ambushed with such a question. I must admit, I don't think I could fully answer my own question.