THESIS WORK / Tristan van Leur / Social Place Networks
THESIS WORK features the work emerging from the newly restructured Waterloo Masters of Architecture program which began in the fall term with Thesis Research and Design studios and seminars. The featured work has been selected by the TR+D1 faculty team of Lola Sheppard, Mona El Khafif and Matthew Spremulli.
Over the course of the TR+D1 studio, graduate students developed their individual research topics in preparation for a thesis in architecture. The intention is to establish a theoretical, historical and intellectual framework through a diversity of representational modes; mapping, diagramming, photo essays, writing, which will serve as the foundation for a graduate thesis to be pursued over forthcoming academic terms.
---
Social Place Networks in Privately-Owned Space Abstract by Tristan van Leur TR+D1 Studio – URBAN_ISMS: Designing the Metropolis by Mona El Khafif
Today's society is more connected than ever; we have constant access to information, communication with our friends and colleagues as well as ability to share our activities and thoughts with anyone we want. The pervasiveness of the network has transformed the way we interact with each other, and with space. People communicate and arrange meetings through SMS and Facebook, standing in physical space and socializing through a screen. "The always-on, always-accessible network produces a broad set of changes to our concept of place, linking specific locales to a global continuum and thereby transforming our sense of proximity and distance." Media, such as Skype and Facebook, makes connection with people across the ocean as easy and instantaneous as connecting to your neighbour. The ubiquity of mobile social networks transforms our social habits – connecting us to our global social network, while disconnecting us from our local environment. The local disconnection that is caused through the occupation of online social spaces is not a necessary consequence of networked media, it is only the contemporary condition. Instead, social networking can be embedded within physical space to introduce localized interaction back into the global network, and mediate the divide between local and global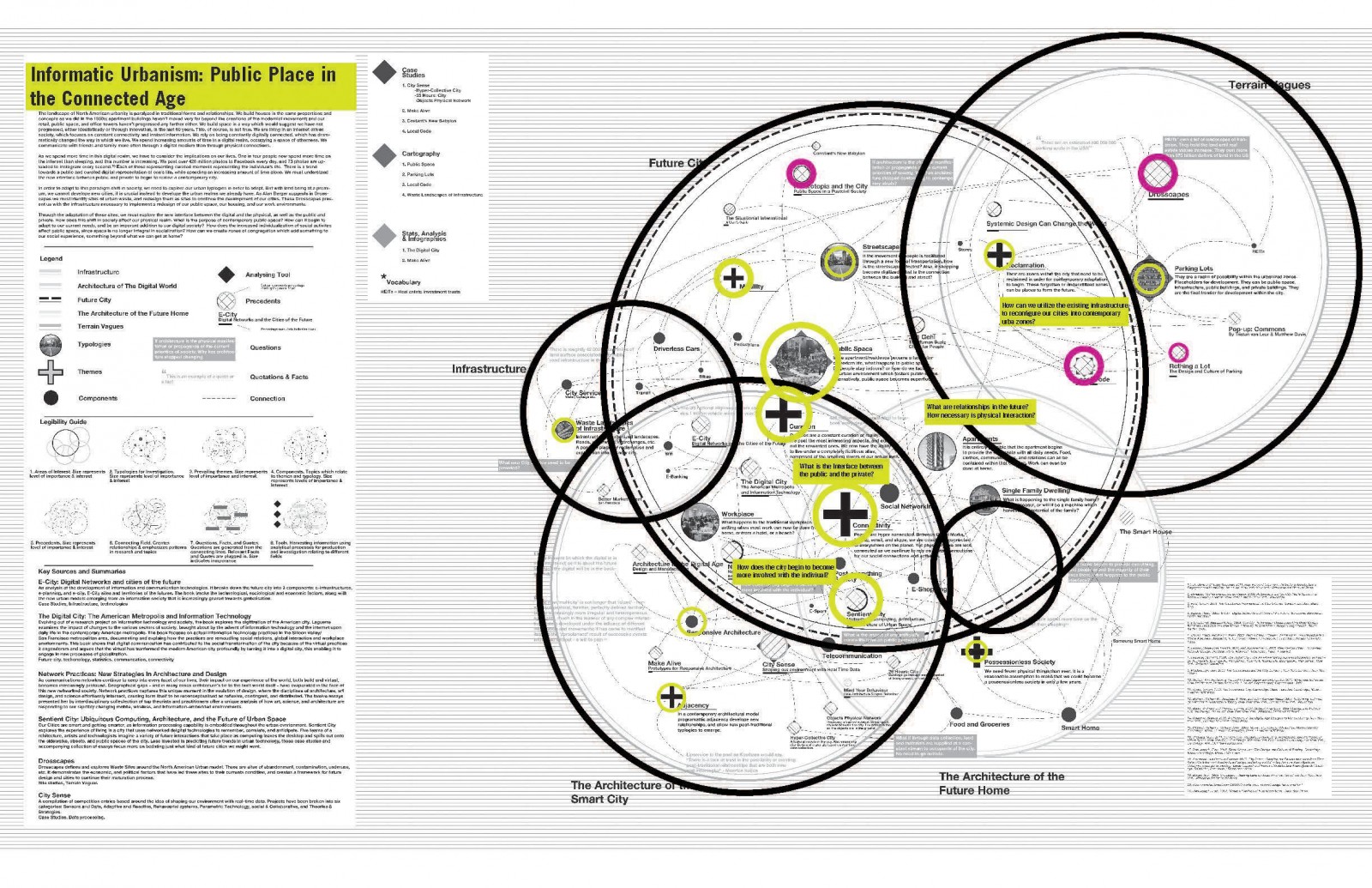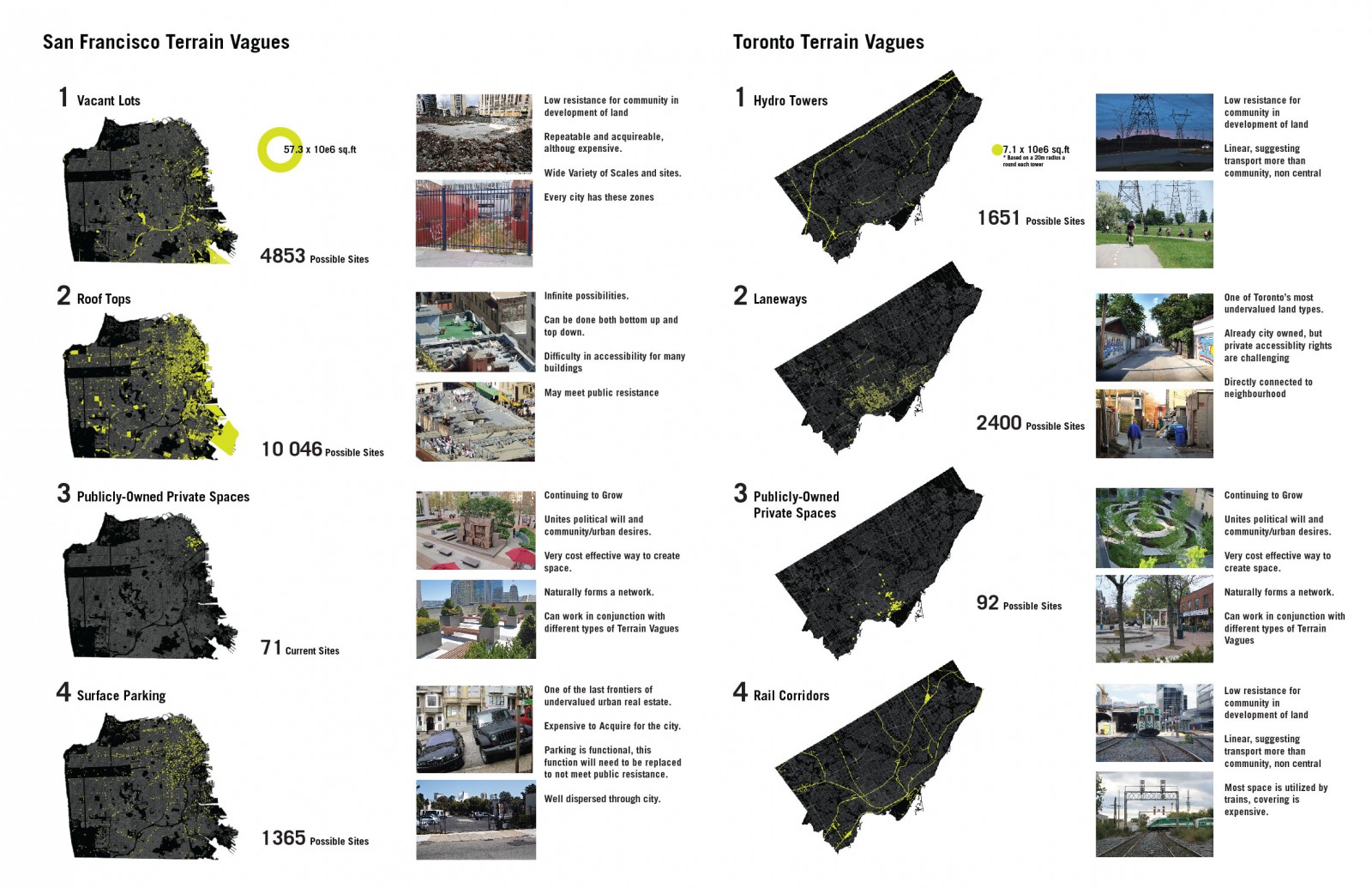 Networking online spaces will reactivate and redefine the public realm. With socializing moving into online spaces, it has impacted how people function within public space; people sit in an environment, appearing in solitude, while connecting to their social network. Spontaneous interaction and spatial interactivity are ceasing to exist. When you couple this lack of spontaneous, social interactivity with increased surveillance, online data ownership, and spatial privatization, public spaces are currently struggling to exist. We need to examine our existing urban condition and reconfigure our existing public spaces. Social Place Networks in Privately Owned Space explores the underutilized and underdesigned Privately Owned Public Space (POPS) networks across North American cities, and looks to leverage their networks as potential spaces for a new type of public space.
POPS can become a user activated public and social space network. By introducing digital technology that is tied to social space, we give the public user agency in governing and activating the site. Social Place Networks is a spatial social network situated within the POPS, that uses the abilities of network and data-driven technologies to affect the physical environment. Social Place Networks looks to heighten the awareness of the local surroundings by heightening their affect on the senses of the user. The research will explore ways in which the heightening of senses can encourage spontaneous conversation and interaction, experimenting with a variety of techniques such as: heat, cooling, or sound. It will look at ways that users can alter the environment through networked media, and discover new ways to interact together with public space.