Lateral Office: Arctic Food Network
It has been a big year for Lateral Office, the firm headed by our own Lola Sheppard of UWSA and her partner Mason White. In December the office was awarded the 2012 Arctic inspiration prize for their Arctic Food Network project, then continued their success this March when they were selected for the American Institute of Architects' annual Progressive Architecture Awards for the same project, standing alongside other winners such as BIG and Perkins+Will.
Most recently it was announced that Lateral Office has been selected to act as curators of the Canadian Pavilion at the upcoming 2014 Venice Biennale.  With 'Fundamentals' as the overarching theme for next year's biennale, the official entry for the Canadian pavilion will be Arctic Adaptations. In addition to their curatorial role, Lateral Office will also be one of the five participating entries in the pavilion, developing a project alongside the University of Toronto in collaboration with the Nunavut Housing Corporation.
The role of architecture in the North has been the focus of Lateral Office since 2007. As one of their most recent projects, Arctic Food Network—for which they have gained so much attention—illustrates the depth of research and design emerging from their office. Below is a shortened introduction to the project, but for the full description and the complete set of images and diagrams, visit their website.
Arctic Food Network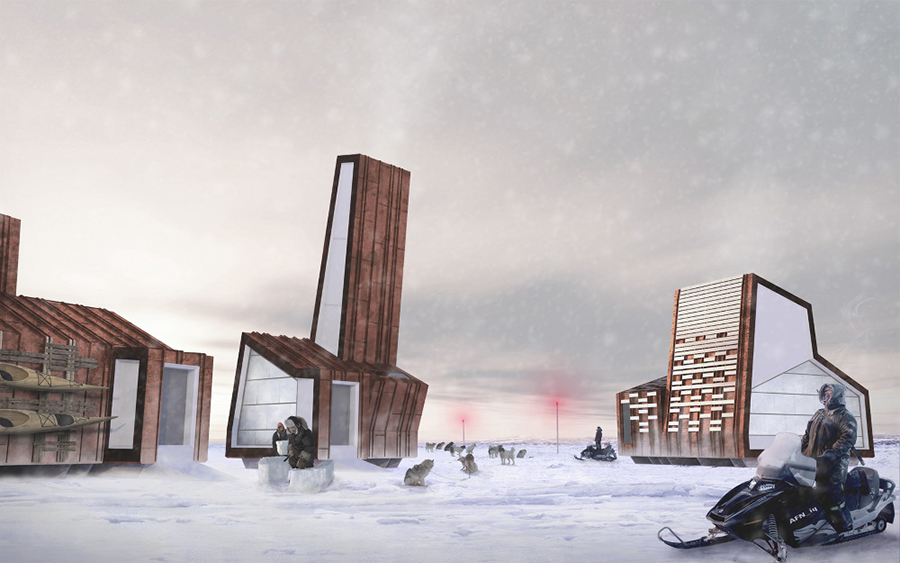 Arctic communities are facing a unique set of modern issues. A young and fast-growing population—particularly in Nunavut—has led to an urgency of expansion, but beyond economic expediency and efficiency, there has been little vision of how these communities should grow.
Some of the greatest challenges now facing expanding northern communities are physical isolation, economic marginalization, youth disenfranchisement, and loss of traditional Inuit knowledge. And with the traditional Inuit diet, centered on hunting and fishing, slowly being compromised by an influx of southern manufactured food, arctic communities are also facing new health issues, such as increased obesity and diabetes—a problem amplified in the north due to inaccessibility and high cost of fresh produce and healthier, perishable goods.
The Arctic Food Network (AFN) addresses the threats of health, poverty, and loss of culture through the integration of Inuit communities on Baffin Island with a unique infrastructure system. Utilizing existing skidoo trails, the AFN proposes an 'arctic snow highway', deploying a regional network of hunting cabins, arctic farms, and camp hubs along the trails that encircle Foxe basin and acknowledge the Inuit tradition of temporary enclosure in a cold climate.
The AFN would assist in the rapidly increasing youthful population, while also offering a potential of future exportable economy for the North. Each of the hubs negotiate the local ecosystem, emergent biological potentials, and its proximity to communities; they are distributed at 160 km intervals and occupy land, water/ice, or coastal conditions, while each siting offers a specific harvestable food product.
Centering on the Inuit way of life, the hubs emphasize country food and make a unique place for food, communication, and mobility. Through this strategy, the AFN seeks to recover local food traditions and engage increasing and youthful populations in northern settlements. Ultimately, the project seeks to enhance the production and exchange of local food, to create small-scale local economies.
The network is comprised of what is called sheds, meshes, and poles, which refer to a set of uniquely integrated elements merging architecture, landscape, and technology. The project is equal parts regional agriculture, seasonal camps, data transmission centers, and ecological management solutions.
Cabin frames employ ready-made as well as prefabricated joinery, utilizing traditional Inuit construction. Cabins are made through collaboration in construction trades between University of Toronto and Arctic College student, facilitating a knowledge exchange from the south to the north and the north to the south. For ease of transportation, all structures are conceived as a kit of parts that can be transported by traditional Quamutik (sled), and erected on-site in 3-4 days by a skilled assembly team.
The AFN posits, as a departing point, the critical role that architecture and infrastructure will play in shaping northern identity—not simply in imagining new northern vernaculars that bridge traditional and contemporary practices, but more significantly, in imaging new roles and programs for social infrastructure—adapted to the unique geography and culture of the Arctic.