Book Launch: Architecturally Exposed Structural Steel
On Monday March 2nd at 6:00pm, the BRIDGE Pop-up Storefront is hosting a book launch for three recently published books by professors from the University of Waterloo School of Architecture. Two books by Terri Meyer Book titled Diagrid Structures: Systems, Connections, Details, and Architecturally Exposed Structural Steel; along with Robert Jan van Pelt's book Lodz and Getto Litzmannstadt: Promised Land and Croaking Hole of Europe, will be launched at the 60 Main Street storefront. Please come by and join us in celebrating the work of our professors.
The following is a description by Terri Meyer Boake about writing Architecturally Exposed Structural Steel, along with images and a sneak peek at some of the chapter descriptions.

Architecturally Exposed Structural Steel
Terri Meyer Boake
Architecturally Exposed Structural Steel: Specifications, Connections, Details is my third book for Birkhäuser. Completed in November 2014 it was printed in January 2015. In the same vein as Diagrid Structures: Systems, Connections, Details, it was designed to be a focused book that built on one of the chapters covered in a more general fashion in Understanding Steel Design: An Architectural Design Manual.  Writing and researching on the topic of AESS actually predates any of the publication work that I have done for Birkhäuser. My work in this area grew out of promotional and media related work I had been doing for the Canadian Institute of Steel Construction. I had been working with the Steel Structures Education Foundation on some case study teaching aids, and in the process had come to be quite involved with gathering material and photos for the former CISC website. Through these connections, my interest in steel has had me invited to participate in a national committee whose task was to create a new set of specifications and design standards for architecturally exposed structural steel (AESS) in Canada. The set of documents that we created were very text based and not at all visual. I convinced the committee that an illustrated guide was essential to help architects and owners to understand what fabricators and engineers meant when it came to detailing exposed steel. As part of that work I wrote the CISC Guide for Specifying AESS, printed in 2011. This was a pretty significant document for me to produce as it entailed not only the extension of the specification text into "prose" but also the gathering of a wide range of very explicit images to annotate the text. I additionally took on the task of laying out the book in InDesign (so have great sympathy for thesis students!).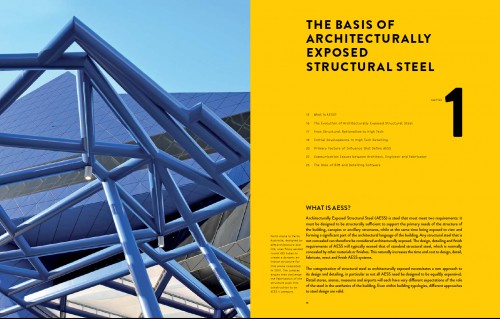 In 2012 I was asked to "translate" the Guide into Australasian as the steel institutes of New Zealand and Australia had decided to adopt our method and required the guide to be modified to include their codes and standards. For me, the real treat was the opportunity to go on a 19 day tour of New Zealand and Australia to promote the work, which of course enabled more travel and image collection!  I provide several continuing education talks on AESS in Canada and the US and I am constantly trying to "perfect" the method through the detailed examination of fabrication details and the determination of which are appropriate and on what sorts of buildings and under which viewing conditions. The potential of the Birkhäuser book on AESS promises to be quite substantial as it allowed me to take a very densely formatted 44 page guide and transform it into a gracious 184 page book that could accommodate significantly more images and text. The book is based quite precisely on the requirements of the CISC system, making it potentially very useful for designers and practitioners involved in AESS design and construction.  I have recently been tangentially involved with an AESS committee associated with the American Institute of Steel Construction. Although the CISC method of designing AESS is based on some initial work by AISC in 2003, the Canadian suite of documents had not been adopted by the Americans. Fingers and toes crossed, they are looking to incorporate the same methods and this is passing through committees and votes this year. If adopted it would create a much larger market for my new book.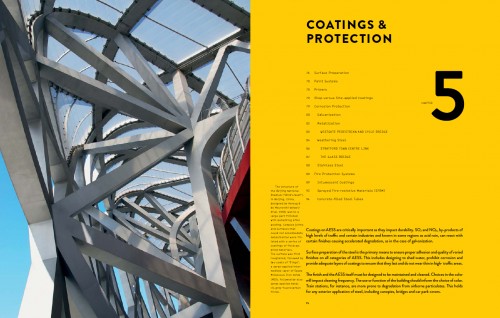 For this book I worked again with the same editor and graphic design team. Frankly I think the graphics are improving with each of the books. Although they appear graphically related, I am happy with the subtle changes in the font and layout of the opening spreads of the chapters. The choice of yellow in this case is really an ode to Richard Rogers as I admire his work, detailing, and his signature yellow colour.   Between the completion of Understanding Steel in 2011 and the writing of AESS in 2014, my travel ramped up significantly. So where I had felt that I had exhausted the best of my images and experience in the making of Understanding Steel Design, I actually ended up with far too much material for the book on Architecturally Exposed Structural Steel. Not really a bad problem, but a problem. For me, cutting projects and images from a text is akin to showing preference to my children. You take such care to visit and document projects, it is disconcerting to be unable to do them justice when writing them into a book. The initial draft of Understanding Steel Design was 103,000 words and 800 images. The final book was 83,000 words and 600 images. The original contract was for 55,000 words and 400 images. So if you can do the math, you can perhaps understand how my books tend to become subsequent books.  I did learn in Understanding Steel Design that my reluctance to edit out images resulted in many of the images being too small. So seeing the same fate in the offing when cataloguing and selecting images for the AESS book, I decided to pitch for yet another book so that I could save some of the more comprehensive projects for use later. The book on AESS is really more about details and parts and could not have done the more comprehensive project documentation justice. So prior to beginning to write the text of the AESS book, I pitched Complex Steel Structures: Non Orthogonal Geometries in Building with Steel. In theory, Complex Steel Structures is to be written, edited, laid out and printed by January 2016.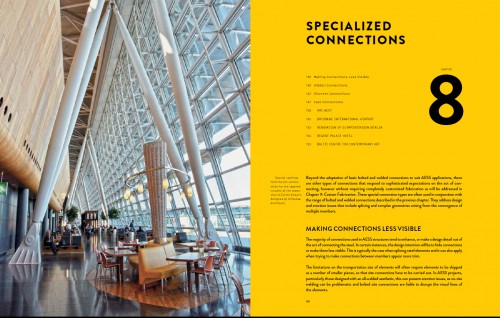 The question that I get asked quite often focuses on the pace of my writing. It is pretty unusual to start and complete a major book in under a year, let alone to imagine doing this for many years in a row. I have to admit that I love writing these books. It feels quite natural to be combining my favorite activities of travel, photography, research and writing into a product that I can share, and that will hopefully outlast me.  So stay tuned. If I don't burn out in the interim, there may indeed be another book launch next February.