P0P F0LK T3XT1L3S Exhibition
Textiles are omnipresent in our daily lives. 
Sophie LeBlanc, curator of the
POP FOLK  T3XT1L3S Exhibition
, organized a group exhibition which explored the specifics and common points between textiles and popular culture. 
Danielle Gignac
, a Waterloo Architecture alum, engaged the questions raised by LeBlanc by interrogating the ubiquity of the sock as a fundamental and commonplace textile. She leveraged her architectural background and the influence of the Waterloo Cultural History program to fabricate a traditional tipi structure held together by socks collected from the Sudbury community. She says of the project, "in a way, it's an amplification of the sock's habitual role: instead of enveloping and protecting the foot, the socks become the basic materials of a primordial shelter that protects us from nature." The P0P F0LK T3XT1L3S Exhibition is located at the
Campbell House Museum
and is free and open to the public. The work was originally featured at
La 
Galerie du Nouvel Ontario (GNO)
in Sudbury from March 13 to April 18 2015.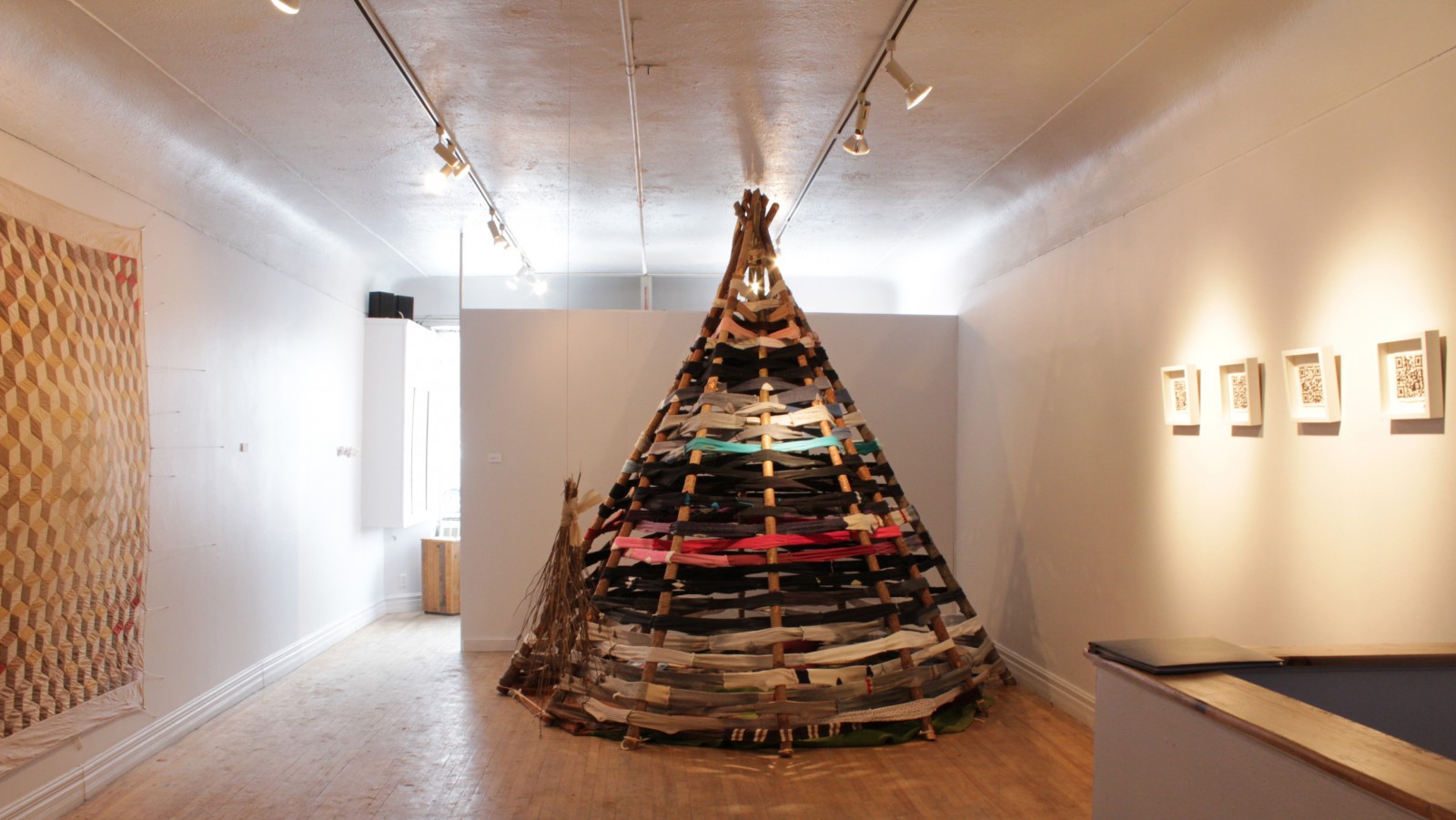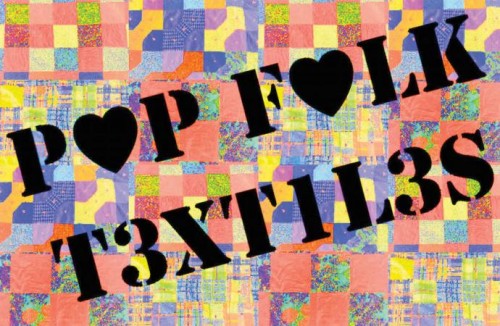 Opening June 26 2015 6-9pm
Exhibition June 26th – August 9th 2015
FREE AND OPEN TO ALLLocation :
Campbell House Museum
160 Queen St W, Toronto, ON M5H 3H3, CanadaOpening hours :
Closed on Monday
Tuesday to Friday 9:30am – 4:30pm
Saturday and Sunday 12:00pm – 4:30pm
How did you come to be involved with the POP FOLK T3XT1L3S Exhibition?
The curator, Sophie LeBlanc, was looking for facets of the exhibition's theme, and an architectural piece was on her list. She saw connections between textiles/fabric and the built environment; both are structure and shelter. The proposition for this piece elaborated on these primary elements, as well as the folk theme, and contributed a spatial aspect to complement the other works in the show.Curator Sophie LeBlanc asked artists to respond to the ubiquity of textiles within our everyday life. After having completed your piece, what do you believe is the value of textiles within contemporary society?Speaking with a man at one of the show openings, he unashamedly believed that textiles are of the greatest importance in our lives and that we ignore them at our peril – at least culturally speaking. At a basic level, textiles furnish our daily lives. The quality and type of fabrics we wear every day speak of our values as much as our tastes. They also speak of our relationship to our environment: how do we obtain and engage with the textiles we use? Do we understand the process of fabric-ation? Does it even matter to us how exactly a wool sweater comes together – the sheep that produced the wool over a year's time; the person or machine that carded and spun it; the factory or Grandmother that knitted it; the store that sold it? And the final product – does it smell of farm or factory? In our society, our relationship with textiles (as with many other crafts) reveals to a degree our relationship with our environment.

Where did the inspiration come from to utilize socks to create both structural support and enclosure for the structure?
Socks are an obvious choice when speaking of ubiquity, no? Well, as un-obvious as it may be, it must then be all the more an affirmation of their ubiquity.
There are many other layers. Socks are a very homely and intimate textile, which we all wear. Looking at textiles as shelter, and shelter as a sort of home, it is there that we kick off our shoes, revealing the state of ourselves, vulnerable – full of holes, knit by Grandma, polka dot, off-white, or the unemotional and never-gets-dirty black. This may also speak of our popular culture – the vernacular in our living rooms: revealing the raw, yet without pretense or show. Our socks bring us home daily.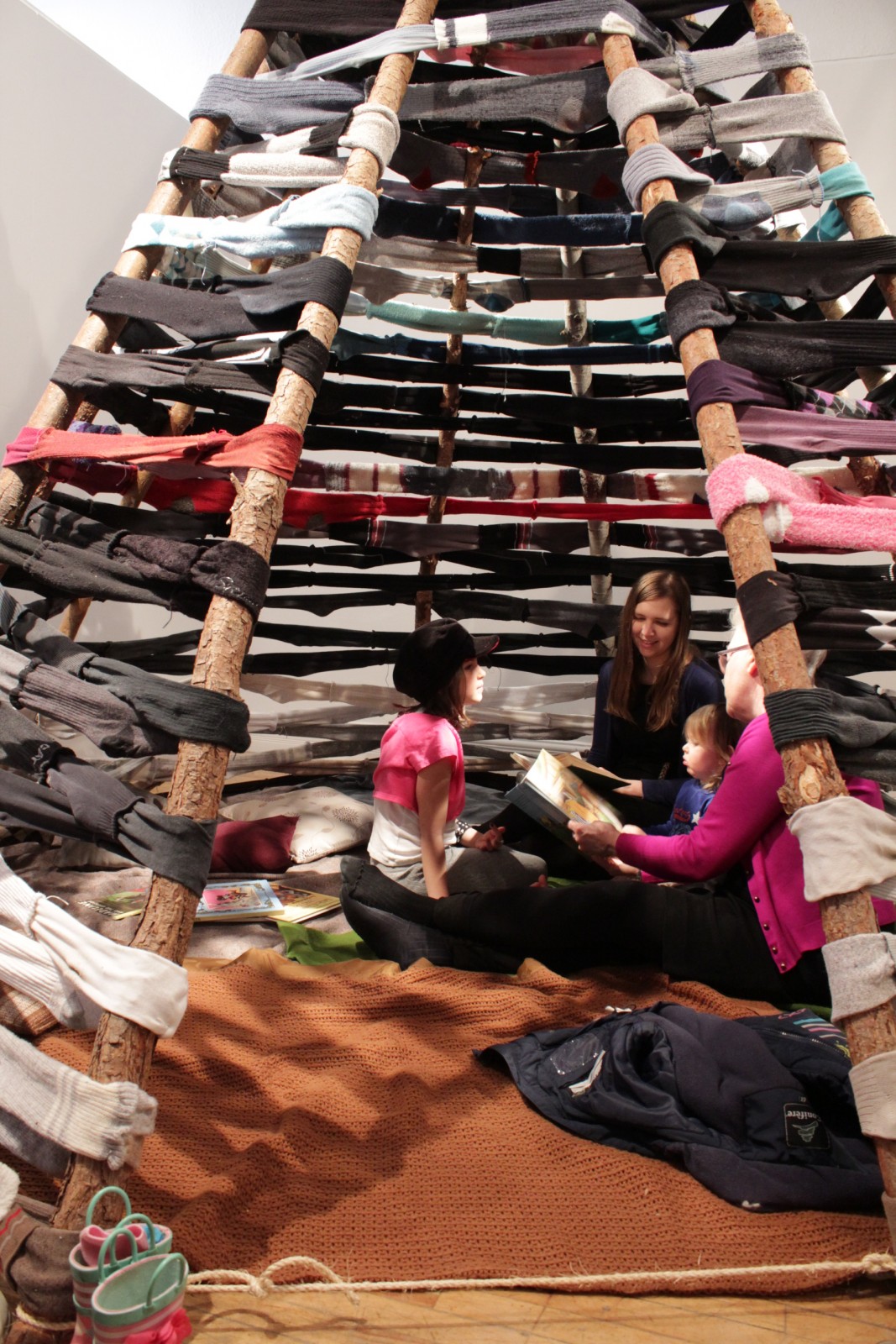 Can you speak about your choice to utilize the traditional indigenous form of the tipi?
The tipi is a most basic structure: the posts are the beams. It's also one of the most local structures: built from the site. It's not worth it to transport such simple elements. Chop, strip and lay up. It connects people to place, and this is where culture occurs. As a critical thread in the fabric of this country, the indigenous structure continues to stand strong. It is supported and enclosed by a great diversity of folk, woven together, all calling this place 'home'. The tipi is also a universal space, transcending dichomoties of settled and transient. It is a connective moment; a refuge of continuity that we carry with us along our journeys. The act of walking the land has long been significant for indigenous peoples. Walking is knowing. Each of the socks carries stories and, brought together, strengthen the framework they weave between, drawing together a picture of the whole. The tension they create forms the shelter.

How has your education and experience in architecture influenced your participation in the POP FOLK T3XT1L3S Exhibition?
I can no longer escape the influence of cultural history, and this is a very good thing. Nothing comes out of a vacuum – the important thing is to know where it does come from and to rigorously test it in contemporary context through envisioning. I first needed to know where textiles and architecture converged, and then in what context I would work. I've also learned that delight is a perfectly legitimate explanation for, "Why?" I read something about that once in first year, somewhere… Do they still teach Vitruvius?
As one of four pieces in this exhibition, I was reminded that while the built environment is everywhere, subtly influencing who we are and what we do, so much also goes on in spite of it. Architecture may be more the "how" in the equation, than anything else. Lambs will be born, despite the barn. But how? Mourners will sit and meditate through repetitive action. But how? Art will be hung and performances will be acted out. But how?
Knowing the very different approaches of the other three artists, I was glad to let my piece sit in relationship to them and in conversation with them in the spaces of the galleries. This is architecture within architecture, and this broader context we are situated within shows us new aspects of each of the works, and how they relate. The show in Sudbury was very different than in Toronto, as are the people that inhabit each place. But eventually, we all have to walk home. And we all have to wear socks.
*Note: Many shelters and donation centres cannot keep enough socks in stock for their clients. We may often overlook the need to have a good supply of clean socks. The pairs from this exhibition will be donated to charity after the show. The next time you're cleaning out your sock drawer, consider giving your less-worn unwanted socks a chance to walk in someone else's shoes.*