STOPGAP CAMBRIDGE: A CALL FOR ARTWORK SUBMISSIONS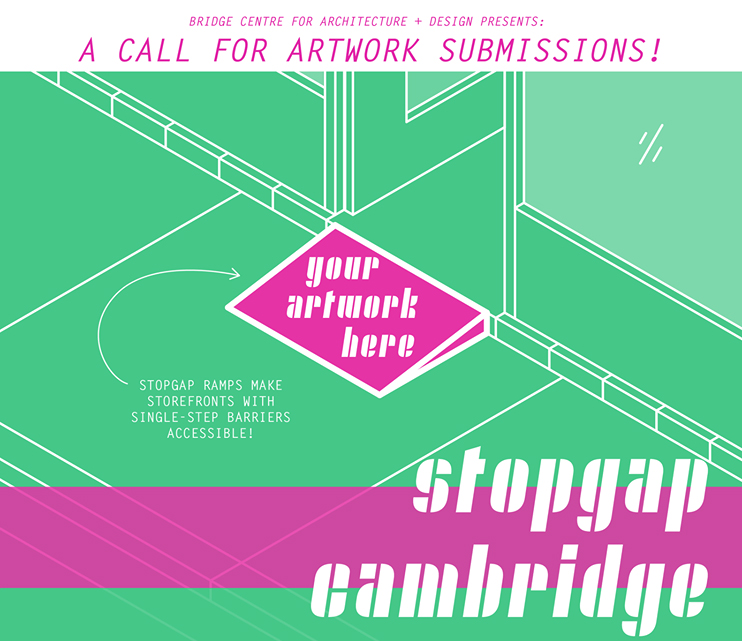 The Stop Gap Foundation, the Cambridge Accessibility Committee, the Cambridge Seniors Woodworking Club, local businesses, and students from the UWaterloo School of Architecture are working together to bring StopGap Ramps to Cambridge, and we need your help with artwork!
Storefronts with single steps up from the sidewalk can provide considerable barriers to the elderly, shoppers with strollers, and people with disabilities. StopGap ramps are small, easily-made accessibility devices that make storefronts with single-step barriers accessible.
We are soliciting design proposals for stencils and artworks to be painted on StopGap ramps for Cambridge. We will be displaying the miniature submissions we receive in an exhibition at the BRIDGE storefront at 37 Main Street on Saturday, April 8th, 2017, and after the exhibition, select designs will be painted onto new StopGap ramps throughout Cambridge.
How do you get involved? First, download a ramp template at this link, or pick up a paper copy at the Waterloo School of Architecture or other participating locations.
Now, draw the stencil design you would like to see painted on a StopGap ramp in Cambridge. The design must consist of two high-contrast colours, maximum – and white does count as a colour! Your design should acknowledge either stencil- or mask-based painting techniques. The colours used in any final ramp will vary depending on paint availability.
Remember that a good design will be easy to paint or stencil on the final ramp!
Finally, drop off a completed template outside the office at the UWaterloo School of Architecture Main Office or other participating locations, or email it to this address!
Thanks to the Society of Waterloo Architecture Graduates (SWAG), the Waterloo Architecture Student Association (WASA), and the Graduate Students Initiative for their support.
We look forward to seeing your creative proposals!